August 15, 2019, marks the celebration of the historic and culturally significant festival, Janai Purnima. In terms of the Nepalese calendar, it falls on Shrawan. This festival is synonymous with Rakshya Bandhan and Gun Punhi and it is greatly celebrated by Hindus across the world. There are numerous names and methods through which this festival is celebrated and, in this blog, we shall describe them in brief.
Janai Purnima
The word 'Janai' stands for thread and 'Purnima' stands for the full moon. 'Janai' is a sacred thread that is worn by Hindu males. In Nepal, people of Brahmin and Chhetri communities especially wear Janai. The young boys of the Hindu community are deemed worthy to wear this thread only after their bratabandha is completed. This Janai symbolizes their transformation from a boy to a man. This sacred thread should be worn daily and it forms a part of their daily lives. This Janai is regarded as a symbol of the body and the road to truth.
A day before the Purnima, the person who is wearing Janai makes themselves pure by trimming their hair and mustaches. They also indulge in partial fasting by relying on a diet that excludes meat, garlic, and onions. On Purnima, they head towards rivers and take a bath and change their Janai. There is a mela in the Gosainkunda lake in Langtang, and there is a mela in the Kumbeshwor Mahadev temple as well. In the city areas, a priest visits the house and the whole family is involved in religious prayers. The priest is provided with money and food.
Rakhi
Rakhi is also a holy thread that is worn by people. Unlike Janai, Rakhi is worn on the wrist. The tradition of wearing Rakhi on the wrist is most prevalent in the Terai region. In recent years, it is celebrated throughout Nepal too. During this festival, sisters tie rakhi on the wrist of their brothers. The brothers provide them with money and food.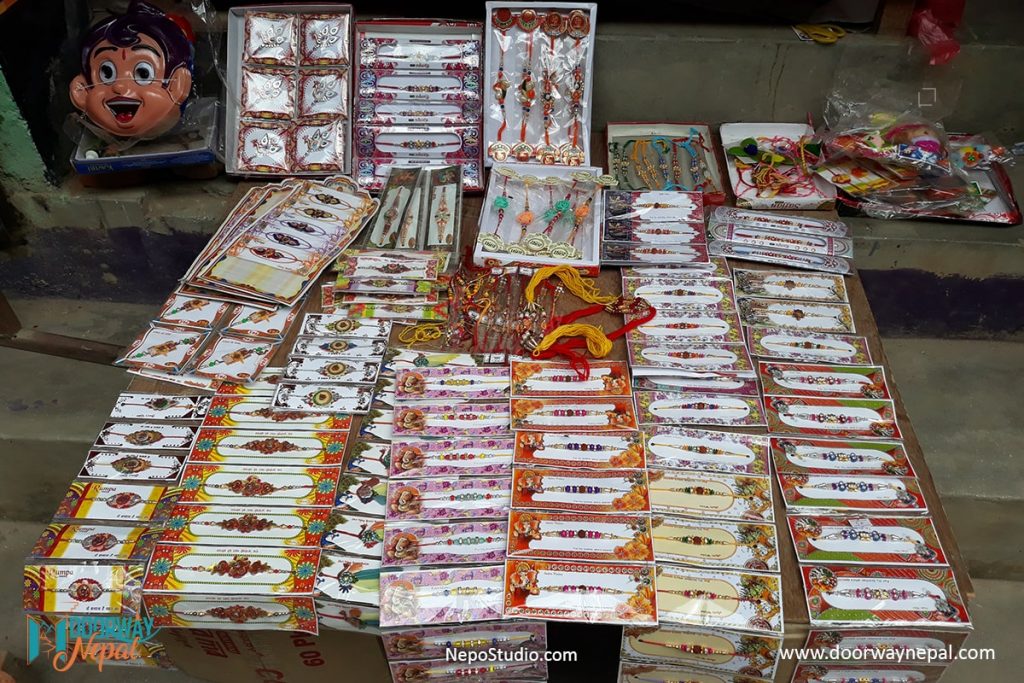 As per ancient folklore, the God of Death, Yama and his sister, Yamuna are credited for starting Rakhi. Yamuna tied a rakhi to Yama and gave him many blessings. Yama was so pleased by this action that he declared whoever gets a rakhi tied by their sisters, will be blessed with immortality.
Gunhi Punhi
The people of Newa community especially of Kathmandu valley celebrate Kwati Purnima or Gun Punhi. During this day, a delicacy labeled 'Kwati' is prepared and is consumed with the family members. 'Kwati' is a combination of 9 different types of beans like black eye peas, cowpeas, black lentils, chickpeas, adzuki, soybeans, mung dal, peas, and favas. Newa people also put a thread around their wrist which is later taken off during Laxmi Puja.
Newa farmers offer all sorts of food delicacies to frogs too. They believe that frogs are an agent of God and are responsible for causing rainfall. This festival falls on the full moon day of Gunla. As a result, it is also called Gun Punhi.
Although there are many names and methods through which this festival is celebrated, we all can agree that it is a joyful occasion.