Yomari Punhi or Dhanya Purnima is the festival in Nepal celebrated every year on the full moon day of December. This is the time of year where the heavy labor of rice harvest is over and the storage bins are full.
Indispensable to the many ceremonies and festivals of this agrarian valley people is food : food to offer to the gods and food for the great family and community feasts. To Newars – who speak the dialect of their ancestors as well as the official Nepali language – fig is yo, and bread is mari; hence yomuhi, a sweetmeat as traditional to Yomari full moon as plum pudding is to Christmas. This fist-size confection of rice flour dough is molded to resemble a fig fruit, filled with molasses-like brown sugar and sesame seed, and steamed.
The Yomari has a shape like Chaitya and is an auspicious food where it significance goodness. Moreover in every auspicious day of Newar community like birthday, inaugurating a house, Janko (Celebration of elderly people), Ratha Jatra and more one serves this delicacy as well as offers to everyone.
Dhanya Punrnima or Yomari Puni is all about respecting agricultural products along with a feeling of giving and adjusting the environment where during this period the weather is very chilling and needs much heat. And the ingredients used in it helps to generate heat in the body.
Moreover, Yomari signifies five elements needed for a life where white color of yomari signify sky and water, sesame seed signify earth, hollow signify air and chaku signify energy. There are many legends associated with it and one such narratives talk about a couple who were very poor and lived in Panauti. Looking at their condition Goddess Laxmi fell pity for them and went in their home.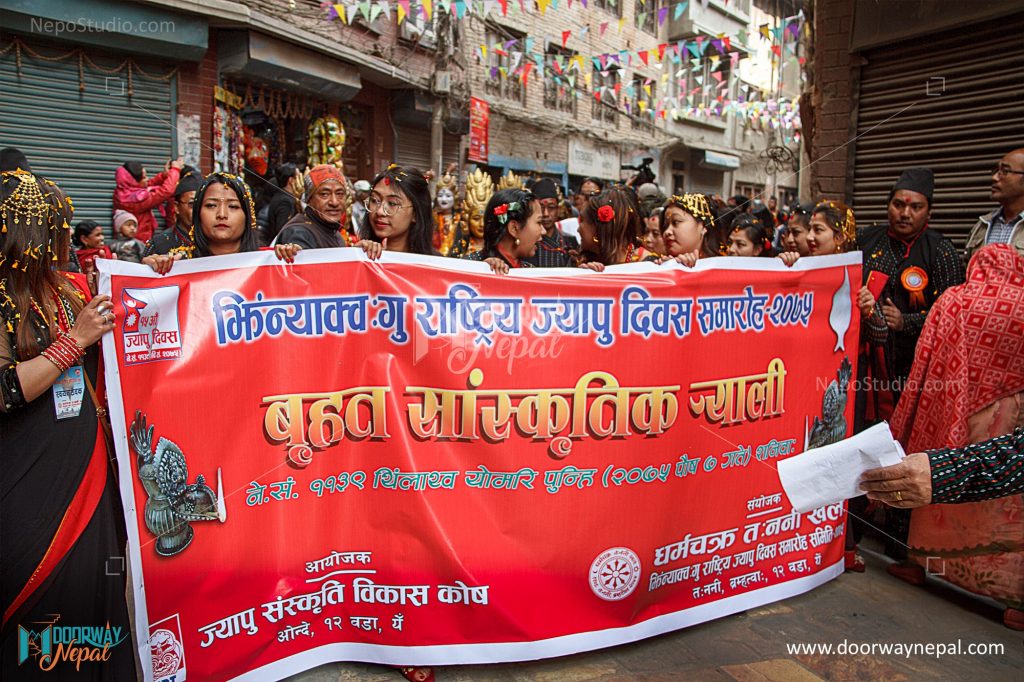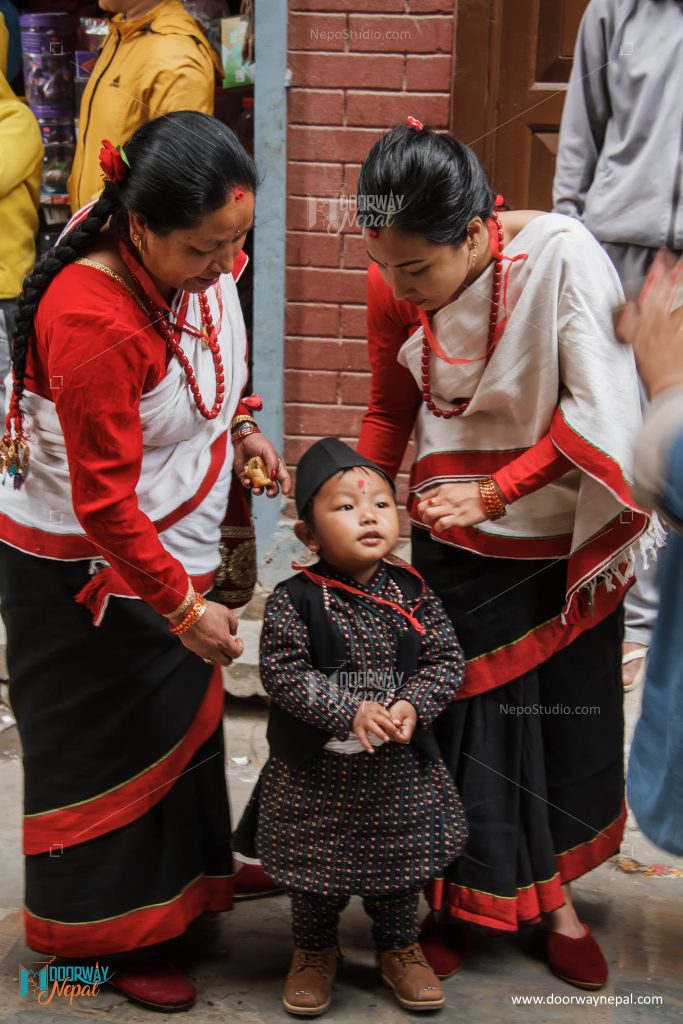 As there is the culture to greet every guest with honor and gratitude the couple also did the same where they let Goddess Laxmi and God Kuber eat Yomari as they did not have anything else to serve. Goddess Laxmi and God Kuber was pleased to have Yomari. Then the goddess told the couple to keep all the remaining Yomari and a fruit bimiro inside Bhakari (storehouse of grains) and left their house. Next day they saw that the fruit and Yomari has turned into gold and then after they didn't have to worry about anything.
Since then Newars celebrate Dhanya Purnima or Yomari Puni with much fanfare and merrymaking. Moreover, Dhanya Purnima or Yomari Puni is the day when all the grains have been stored from the field and the day to worship Goddess Annapurna —one of the incarnation of Goddess Laxmi. It is believed that if one worships Goddess Annapurna during this time one does not have to worry about being lack of food. Moreover, children ask for Yomari in their neighborhood singing a song that has the description of Yomari and blessing for the household who offers Yomari to them during this festival.
Non-Newars call this full moon day Dhanya Purnima, dhun meaning either wealth or unhusked rice, synonymous terms in Nepal. These Parbate people, as Newaris call all non-Newars, will not use the new crop of rice for food until it has been blessed in the store-room on this full moon day. Many place yomari cakes in their treasure boxes with cash and valuables, praying to the Goddess of Wealth for continued and multiplying prosperity.
The sweet goodness of Yomari does not limit to its taste or cultural aspect but it is also a symbol of togetherness and unity of a family and friends.
Recipe for Yomari
Ingredients
Rice Flour (Tichin rice): 1kg ( for 35 pieces of yomari)
Chaku: 125 gm
Seasame seed: 300 gm
Water: 750ml
Method
1. Boil the water and add 50 gm of rice flour then gently keep stirring the mixture until it is all sticky and thick which will create a glossy effect later.
2. Then add all the remaining flour to the mixture and make dough until it's smooth and soft. Then cover the warm dough with a clean cloth or keep it in a hot case.
3. For the stuffing melt the chaku in water and sieve the chaku in a cloth to separate any kind of foreign material. Put powdered sesame seed but not so fine powder in the chaku and mix it well.
4. Then pluck small amount of dough and use your index finger and create a hollow where the length of that dough should be six inches and the thickness of remaining dough surrounding the hollow should be 1/8 th inch thick.
5. Pour one and half spoon of the stuffing and gently close the opening of the Yomari.
6. Then steam the raw Yomari for 15 to 20 minutes and it's ready to serve.
Notes
—While making Yomari, the dough should be warm otherwise after filling the stuffing it may crack.
—The Seasame seed should not be fine powdered rather should be rough to get the chewiness while eating.
—You can also add other stuffings according to your wish like paste of green gram or black gram, khuwa (dairy product) or mined meat.